The studiolution POS system has been specially developed for hairdressers, beauty salons, nail studios, dog salons and surgeries and much more. developed. Thanks to the direct link between the appointment book and the cash register, it makes cashing up much easier in the sometimes stressful day-to-day running of a business. This leaves more time to take loving care of your own customers.
Vouchers are an important tool for customer loyalty and for increasing sales. This makes them an important component of every POS system. A barcode is generated for each voucher, which can be redeemed simply by scanning it during the checkout process. The amount will be deducted automatically.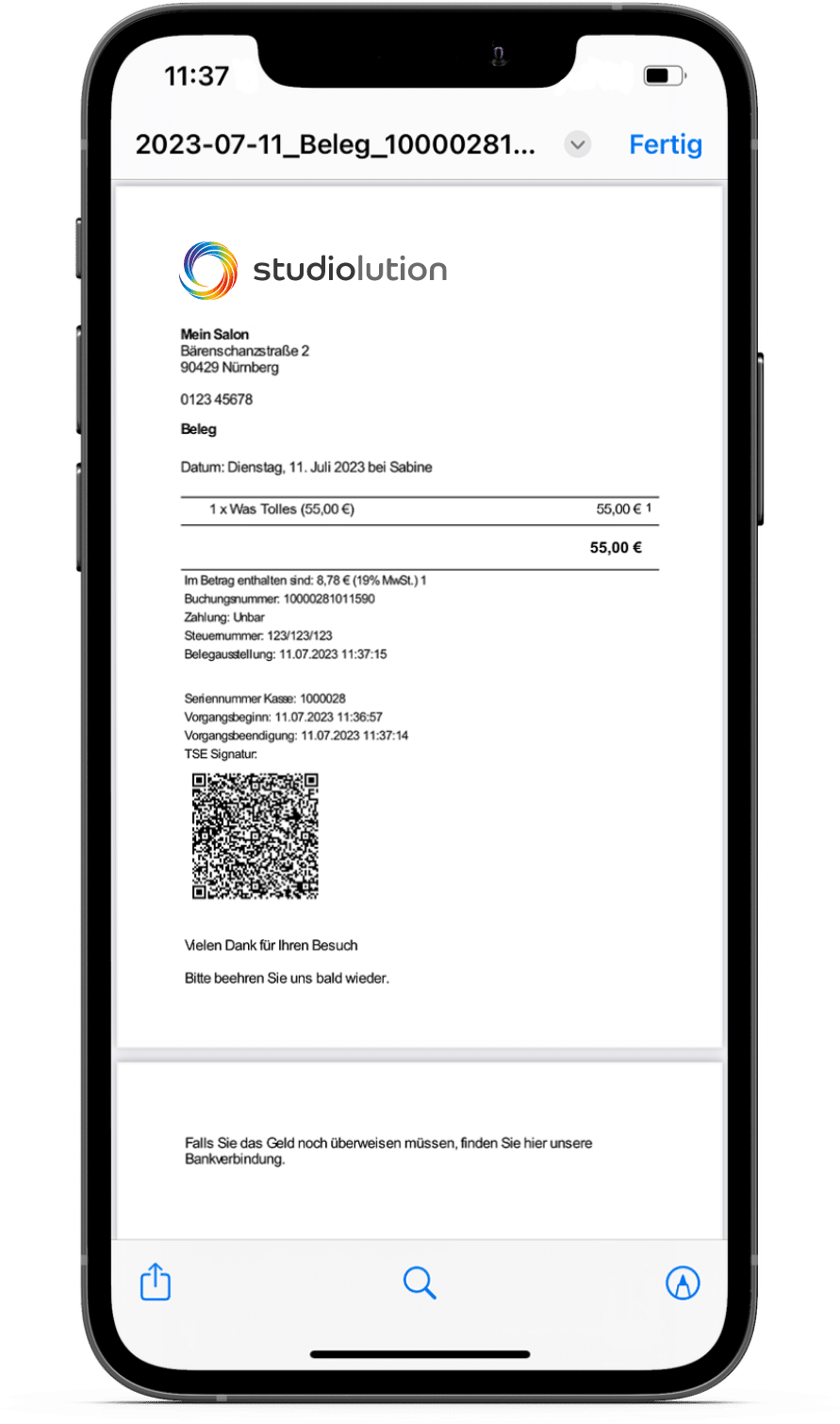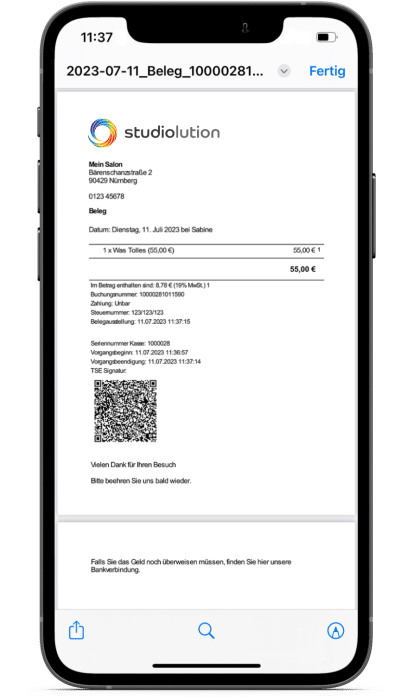 The receipt is a sometimes boring – but necessary tool for every cash register. With studiolution's POS software, you can turn your receipt into a personal, individualized advertisement for your company!
With just one click, you can upload your own logo, which will be printed prominently at the top of the voucher. With the help of freely modifiable texts, you can expand the content of the receipt as you wish and draw attention to discount promotions, special offers or changed opening hours, for example.
Note for Germany: The Kassensicherungsverordnung has been in force since January 1, 2020. In addition to the fact that a POS system must be GoBD-compliant, there is – as is already the case in Austria, for example – an obligation to issue receipts in Germany. In our POS system, there are two options for how receipts are sent to customers: a) via receipt printer or b) by e-mail. The receipt by e-mail is particularly practical for mobile companies.
Cash report and analyses – a firm grip on the figures
The POS system offers many functions to keep track of the key business figures at all times. The whole thing is very simple and just a click away.
The cash book is managed automatically by the software. The data can also be neatly forwarded to the tax office in the form of a DATEV report. The whole thing works simply by entering the tax office's e-mail address directly from the system. This saves costs at the tax office and a lot of time.
By simply scheduling and cashing in, all statistics are filled automatically. This answers questions such as "How much revenue do I and my team get out of one hour of customer service?" or "What percentage of my new customers come back – per employee?".

Cash drawer, receipt printer & Co.
You can use studiolution with any tablet (e.g. iPad), PC, laptop and other internet-enabled devices. Cash drawers, receipt printers and barcode scanners can simplify operation and enhance the professional impression of your business.
However, expensive investments in hardware are not necessary. We offer POS devices such as receipt printers, barcode scanners and cash drawers at very reasonable prices in different versions and colors to suit your company. We also have our own EC terminal, which integrates seamlessly with the checkout. You can read more about this in our accessories section. By the way: Our expert team also provides free support when setting up your new devices!
Legal changes for cash register systems from 2017 (GoBD)
With studiolution salon software, you are perfectly prepared for the legal changes regarding electronic cash register systems.
The studiolution POS system has been certified in accordance with the principles of the GoBD since June 2016.
The cash register not only impresses with its very simple operation, but has also been certified for the second year in a row by an independent audit in accordance with the GoBD. The following criteria were applied:
Provisions of commercial and tax law
Principles of proper accounting
Letter from the Federal Ministry dated 14.11.14 (GoBD)
Statement by the Institute of Public Auditors in Germany on the "Principles of proper accounting when using information technology"