studiolution – The hairdressing software
Hairdressing salons need a POS system that simply works.
No one likes to stand in the salon all day with the instruction manual.
In the software developed especially for hairdressers, the appointment book is at the center of the action alongside the cash register.
In addition, the
customer management
is directly integrated.
This means that you can access your customers' data at any time – with just one click.
Everything together is extremely easy to use – so don't worry 😉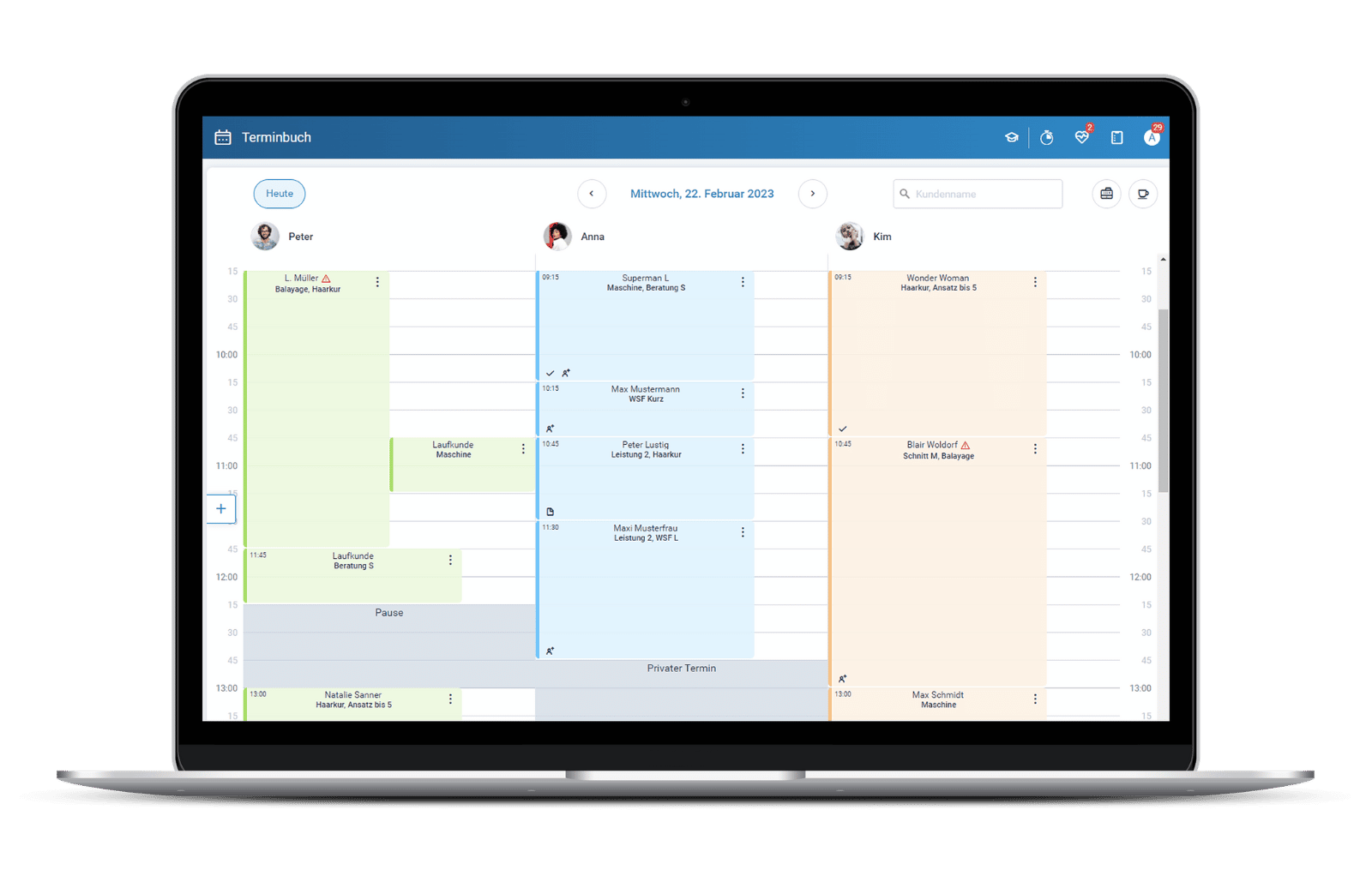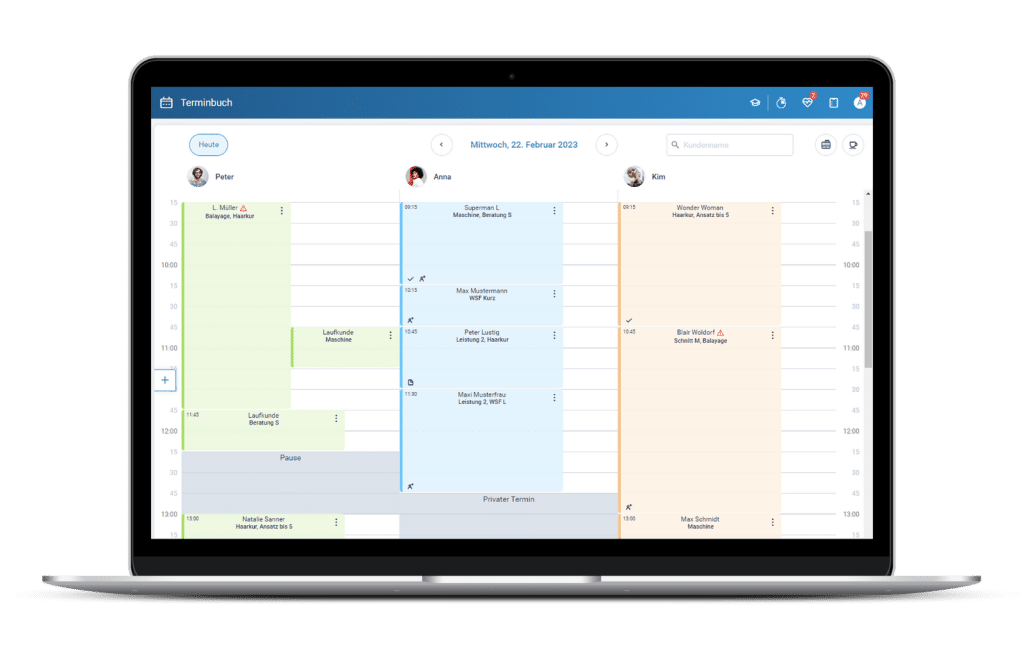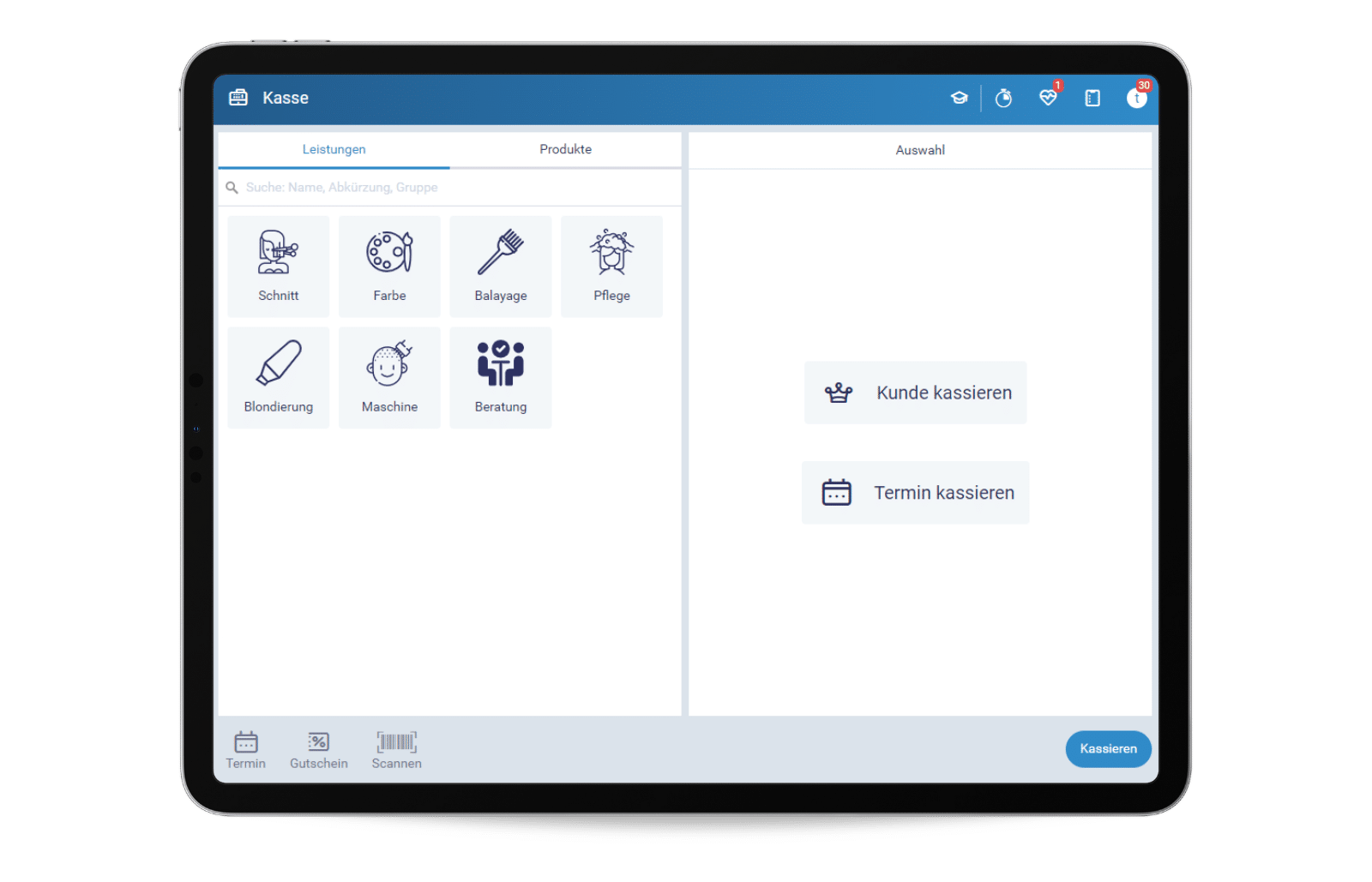 Software for hair salons – what's the point?
The software runs on almost any device that can access the Internet. Our customers prefer to use all-in-one PCs, Macs, laptops or even tablets.
We recommend a reasonable "workhorse" – after all, it should not only be small in size – but also facilitate everything in practice. Most of the time you still have something at home and don't have to buy anything new. This makes our hairdressing software inexpensive and from the accessories design very flexible and to your own liking.
For most hairdressers, the
appointment book
is the center of work – as it is at studiolution. In contrast to the handwritten appointment book, all appointments are always available everywhere. So you don't have to be in the business to know what's going on and where there are still gaps. Appointments can be cashed with one click – without having to type everything again.
Nothing is worse than missed deadlines. Possibly another long appointment over 2 – 3 hours. The customer doesn't show up and the running customer has just been sent home because it was full… Therefore, an automatic appointment reminder via SMS is also integrated.
Our goal has always been to develop hairdressing software that is affordable and easy to use – yet can do "everything". From our point of view, this only makes sense if the cash register and the appointment book can be used optimally both on their own and together.
Online appointment booking – let customers book themselves
Online appointment booking via studiobookr is also a great help. This is simply integrated into studiolution – without extra costs or commission payments. Of course, you don't have to use them, but you can at any time – if you want. Our recommendation is to use this little helper. It's absolutely easy for the hairdressers and the customers.
Customers simply book their appointments themselves. Nobody has to answer the phone and nobody has to spell the customer's name, because the customer enters everything themselves. The customer data is automatically stored in the customer file. It has been proven 1000 times and please don't be afraid of giving up control… either. Each hairdressing service can be set precisely: which team member is allowed to perform this service, how long it takes, can the service be split up, etc.
The POS system – making everyday life at the hairdresser easier
Cashing up times simple! The
POS System
is fully integrated with appointment calendar & Co. But the cash register can also be used separately. However, it unfolds its great strength in interaction with the appointment book. Because every appointment can be cashed with a few clicks.
Products and coupons can be added via barcode scanner. Giving discounts is almost too much fun and the customer file is also accessible at any time. Of course, sales can be split between any number of hairdressers. In addition, you can use as many devices as you like at the same time – for example, if there is a traffic jam at the checkout. Especially in hair salons, this is often the case that the phone rings and one makes an appointment while another wants to collect. For example, you could have a PC in the store at the same time as a tablet or another PC for cashing up.
At the checkout, things simply have to move fast. What's more, team members change from time to time – so a training course can't last 4 hours. We have set ourselves the task of building simple yet comprehensive POS software for hairdressing salons. Anyone can do complicated – simple is hard 😉
The cash register also offers great features like:
Marketing is beautiful – if you use it right. Marketing is not only a discipline in the company, but above all an attitude – namely customer orientation. And that should basically be the rule in the salon. studiolution supports hairdressers with smart tools without overloading them. The most important asset of a hairdressing salon is to get as many customers as possible to come back. This is also the best compliment a customer can give a hairdresser.
Trigger SMS can be used, for example, to send appointment reminders via SMS – or even
birthday SMS
and some others more. You set this type of SMS once and then they work quite automatically. This increases the level of service in the store enormously and simply makes customers happier.
There is also the possibility to send campaigns. And, of course, it is also important here not to simply send a newsletter to everyone, but only to those who are also affected. For example, the hairdresser can select customers who have not been in for 30 days and otherwise have a turnover of over €80 per visit. In other words, the right customers for my next event evening, for example.
But marketing would be worth nothing without analysis – and there are tons of statistics that really help and don't just show the turnover (don't worry – there are also turnover statistics ;-))
Statistics for hairdressing salons – don't worry, it won't hurt…
The secret of a hairdressing salon's success lies in the statistics. What many hairdressers often forget is that the craft is only one part of success. It's usually a triad of personality, business management and craftsmanship. It's not enough to look at your sales once a month and find it interesting when they go up or down. It is much more important to know why. That's why studiolution is like a small business consultancy for hairdressers. Figures are analyzed and presented in an easy-to-read manner.
For example, you can find out exactly how many % of new customers can be converted into repeat customers – per team member. Or you can see exactly how much revenue a team member brings in per 1 hour of service to customers. The statistics also show with which services actually how often how much revenue is made to optimize the price list. For example, a hairdresser already makes 50% of her turnover with just 3 services – did you know that? And yet, time and again, we receive price lists with more than 100 items that have been worked out down to the smallest detail… Keep it simple – studiolution helps 😉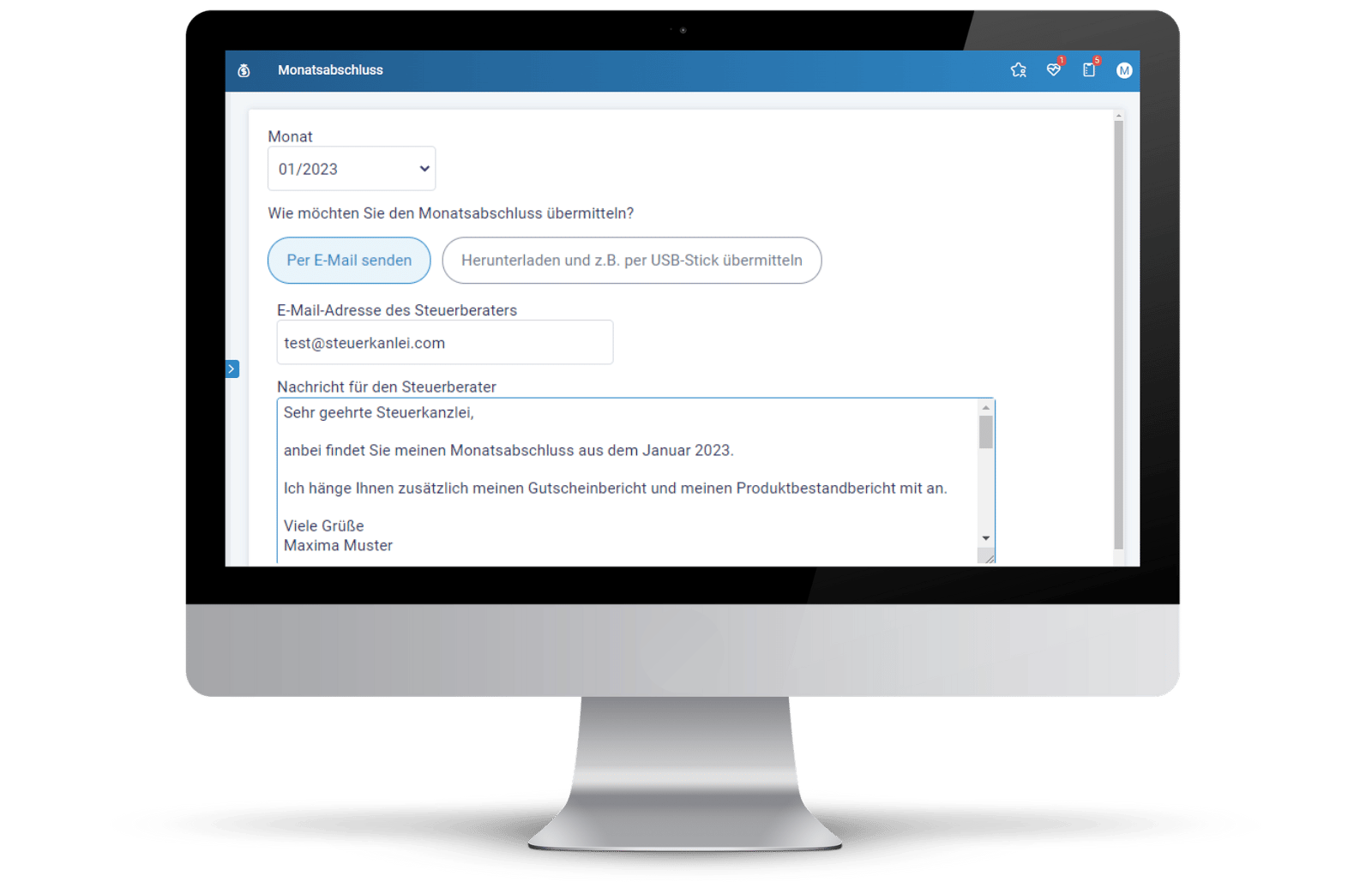 Accounting – please do not!?
Yes – most people don't want to have anything to do with this issue. The good news: You don't have to, but you can. studiolution tries to keep the accounting as simple as possible. If you don't want to, you don't even come into contact with account assignments. The chart of accounts is automatically stored and the settings in the cash register can be done in speaking names and not in account numbers.
The cash book is created automatically. The posting batch for the tax office is also created automatically and can be sent at the end of the month with just one click. No more paperwork and the hassle of filling out a cash book at the end of each month.
Nevertheless, we constantly inform about changes in the law and also advise tax offices, e.g. on issues relating to the taxation of vouchers, etc. The studiolution POS system has already been certified several times in succession by extensive and independent audits in accordance with GoBD.