Wooow…an EC terminal specifically for studiolution?
No typing/ copying of prices needed. It's a simplification and time saver for your daily business. Work even more conveniently with the studiolution.
Our little one has it in him.
Directly integrated into studiolution, with the most common payment methods: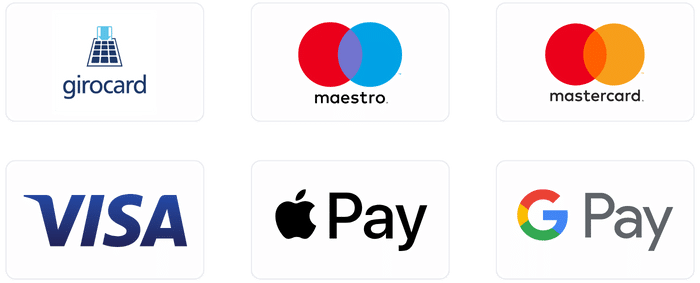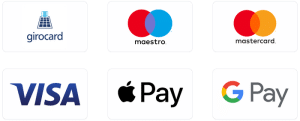 Your customers can conveniently choose from 5 payment methods:
Terminal Prices & Conditions
Favorable and simple pricing model without monthly fixed costs:
EC cards: from 0.45% of the payment and credit cards: from 0.99% of the payment + 9 cents per transaction (plus VAT). The prices depend on your sales volume.
The decisive factor for the classification is the turnover of the past month with studiolution Pay. Initially, the tariff scale "up to 5,000€" is always stored.
Always 100% fair: A change of scale is always made automatically at the beginning of the month. Upon presentation of appropriate evidence from the previous terminal provider, an appropriate scale can also be set in advance.

No binding –
no stress

, no headaches
We do not believe in tying you to the SL Pay Terminal with long contracts. Costs are only incurred when it is used. That means no use or less use = no cost or less cost. So don't worry if you take a break for a few weeks because of Lockdown or go on vacation.
There are also:
Full
workload reduction

– more time for the essentials
The SL Pay terminal not only eliminates the need to enter data into the EC device. You benefit from the all-round service through the complete integration in the studiolution cash register:
Stylish

on the go – small, practical and handy!
Size: 138 mm L × 68 mm W × 18 mm H
Display: 2.8″
Weight: 190 g
With touch function and keypad
Rechargeable battery via USB charging cable
Battery life approx. 3 – 4 h
Contactless payment, e-wallet reader, bidirectional 3-track magnetic card reader
The extremely slim design of the
Verifone e285
makes the EC device extremely handy. The terminal does not contain an integrated printer, which is why it is so lightweight. In fact, the EC receipts are printed by the system together with the receipt via the receipt printer. If you don't want to use paper at all, you can send the EC receipt together with the voucher by e-mail.
The terminal has a rechargeable battery and can therefore be used throughout the store. There is also no need for a second device, such as an iPad. The terminal works completely independently, you can walk with it in the whole store 😉
Purely wired solution

– also works…
Size: 167 x 80 x 58 mm (with privacy screen), 167 x 80 x 44 mm (without privacy screen)
Display: 3.5″
Weight: 310 g
With touch function and keypad
Slots: SAM: 2 slots | Micro-SD: 1 slot
Power supply AC input: 100-240 V, 50/60 Hz | DC output: 9 V, 1 A
Contactless payment, e-wallet reader, bidirectional 3-track magnetic card reader
If you want to give your terminal a fixed checkout location and don't need a mobile option, the
Verifone P400 Plus
is the ideal choice. This terminal not only impresses with its attractive appearance, but also offers a reliable wired terminal solution.
As with the other model, this one does not have its own printer. The receipts are printed out using your receipt printer.
PS: If you're looking for an alternative that doesn't require a terminal at all, there's also SL Pay Link. Your customers will receive a payment link via SMS on their cell phone. Click here for more information.
The
trend

with the credit card
The trend is moving more and more in the direction of credit cards. This is because modern payment methods such as Apple Pay and Google Pay are also based on credit cards. More and more people want to pay with it. What is clear is that the trend will not disappear again. We recommend you go with the trend, because it will raise your service level and look modern. Your customers are free to choose and can pay as they please.
Credit card fees are often the cost drivers for terminal fees. With our credit card fees starting at 0.99% of the payment + 9 cents per (plus VAT) transaction, we are significantly cheaper than many providers on the market.