The industry solution for nail salons
Ensure simple and faster processes with studiolution.
The appointment and POS System can be used precisely for nail studios.
All you need is an Internet-enabled device such as a computer or laptop.
You can access studiolution from anywhere via the browser and save data in real time.
In addition, use via multiple devices at the same time is also possible.
With the digital appointment book, the paper chaos has finally come to an end and also
Cashiering
has never been so easy.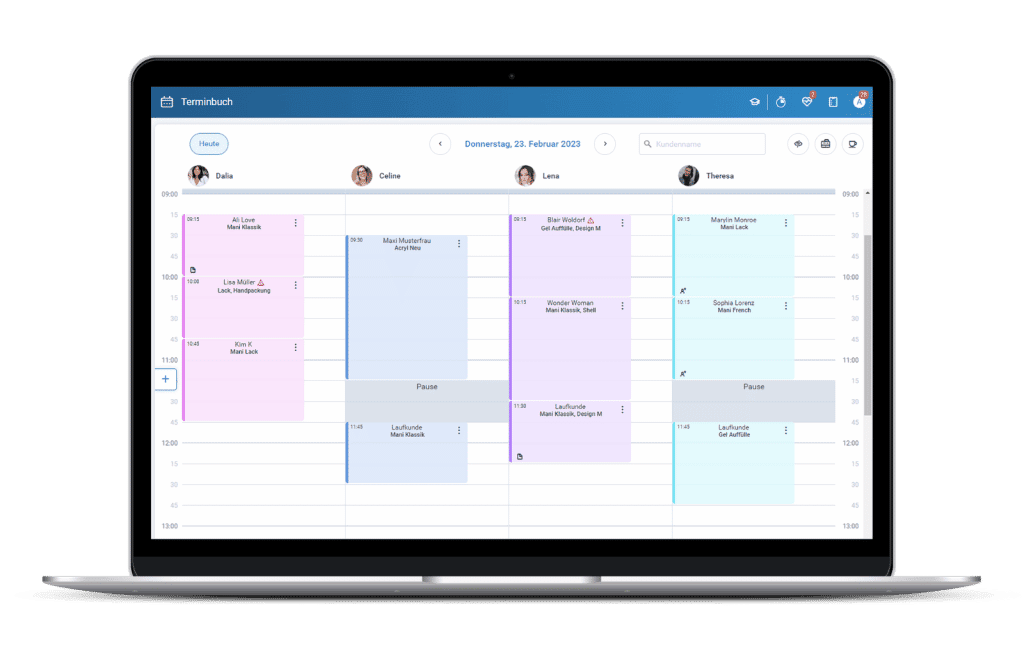 The advantages for nail salons:
The system can also be combined with hardware such as a receipt printer, cash drawer and scanner. Not only can it be used to print personalizable receipts, but it can also be used to scan products and coupons.
More convenience, fewer missed appointments, and improved utilization with more interesting tools in the marketing area. The customer management is also included. No more fear of accounting, even that becomes effortless.
Goes with and without appointment book
The digital appointment book provides an overview and order in the hectic daily nail routine. studiolution works with and without appointment book. Especially in nail salons you often have short-term appointments or walk-ins. This is exactly what makes the appointment book – it is flexible and adapts to the needs of nail salons. Of course, you can store all services from manicure to nail modeling in the system – incl. of the standard times. Appointments thus automatically have the correct length. In addition, each appointment can be cashed with one click, because the POS System is directly connected to the appointment book.
A distinctive feature of nail salons is often the limited number of rooms and equipment. This requires a resource management built into studiolution. This allows equipment from nail clippers to pedicure rooms to be accurately managed. An overbooking in the appointment book is thus excluded.
Additionally, nail salons can use the built-in
online booking
so that the telefen is finally silent 😉 The Clients can book independently with it. Don't worry – all services offered can be narrowed down to employees and times. You never lose control – on the contrary. All booked appointments land directly in your own appointment book, including customer data – and no one had to answer the phone or type…
Nails beautiful? Also cash register beautiful?
The
POS System
simplifies your everyday life in the studio. Cashing in on services and products is child's play. Of course, prices can be changed at any time, discounts can be granted or vouchers can be sold. The cash register is particularly easy to use when you collect an appointment. Due to the connection between the appointment book and the cash register, all data from the appointment are transferred to the cash register. This means that cashing up only takes seconds.
Sales are booked directly to the individual employees of the nail salon in the cash register. This not only allows accurate statistics to be evaluated later, but also allows bonuses to be paid to employees based on sales.
Voucher management is also integrated directly into the checkout. You can even send vouchers directly to customers by e-mail or SMS. Also discount codes can be created at any time, so you can reward Clients on a particular occasion. In the voucher management you have an overview of all vouchers and discount codes.
However, the most important thing is that the cash register for nail salons is particularly easy to use – after all, no one wants to stand there for hours with the instruction manual…
SMS and marketing in nail salon
How often does it happen that Clients miss their appointment? Especially in nail salons it often goes case by case. Good for the one who can immediately fill the cancelled appointments. Too often, however, it results in lost sales. You then sit in the store and get incredibly annoyed about the wasted time. Don't worry, there is a solution for that. SMS notifications, such as the appointment reminder 24 h before, can reduce the failure rate up to 100%. Clients are reminded of the appointment in advance. This leads on the one hand to fewer missed appointments and on the other hand to very "taken care of and satisfied" Clients. The marketing tools in studiolution increase the service level so much in the nail salon that the Clients become more satisfied. And with the automatic SMS, this works virtually by itself.
You can automatically congratulate your Clients on their birthday or send campaigns by e-mail to turn Clients into return Clients.
All numbers at a glance in nail salons
Only very few people like to deal with the topic of accounting. Unfortunately, however, even the nail studios do not get around it. With the POS system, the world of numbers becomes completely unproblematic. This is because all bookings are saved with the correct account assignment. Keeping a written cash book is now history. The monthly connection can also be pre-assigned and even transmitted to the tax consultant in DATEV standard format in just a few seconds.
studiolution provides you with important statistics based on your sales, appointments, Clients, etc.
statistics
which help you to become even better. Who has an idea of how high the return rate in the nail salon of new customers is, which employee makes the highest turnover per appointment hour or which days of the week generate the best turnover, studiolution can easily provide you with these figures.
And that's just the beginning. Through the Business Analyzer, statistics can be assembled as desired, as in a construction kit.