scheduling & POS Software for barber
With our system you have not only appointments in your barbershop, but also cash register and Clients under control.
All this works absolutely uncomplicated with a device of your choice (e.g. laptop, computer or Mac) and an Internet connection.
The browser-based solution does not require complicated installation and can be set up in no time.
The all-round solution is child 's play to operate and can also be used optimally for barbers thanks to the 5, 10 or 15 min cycles,
which often work with shorter appointment times.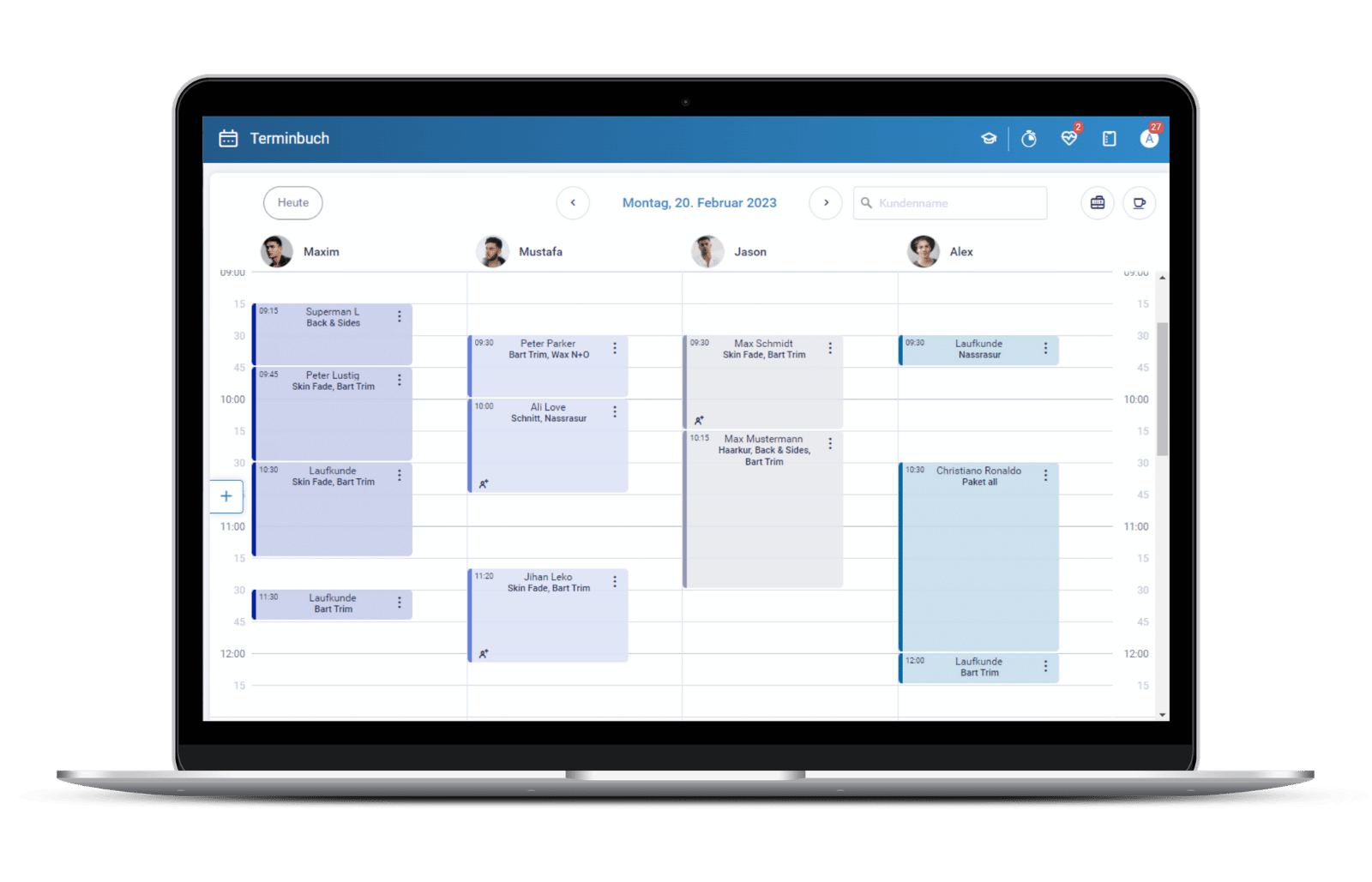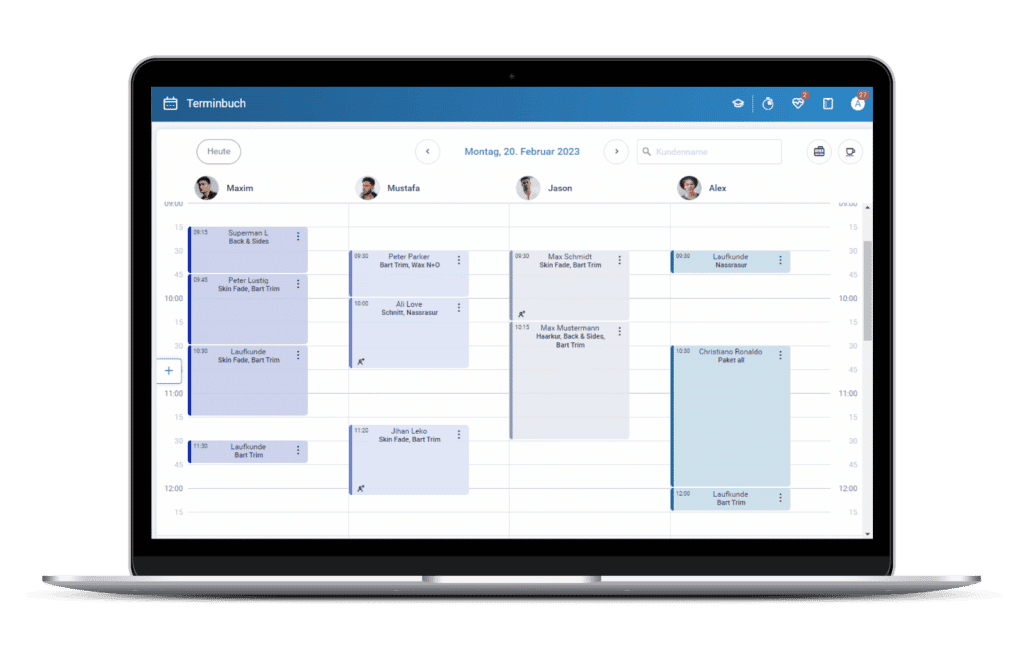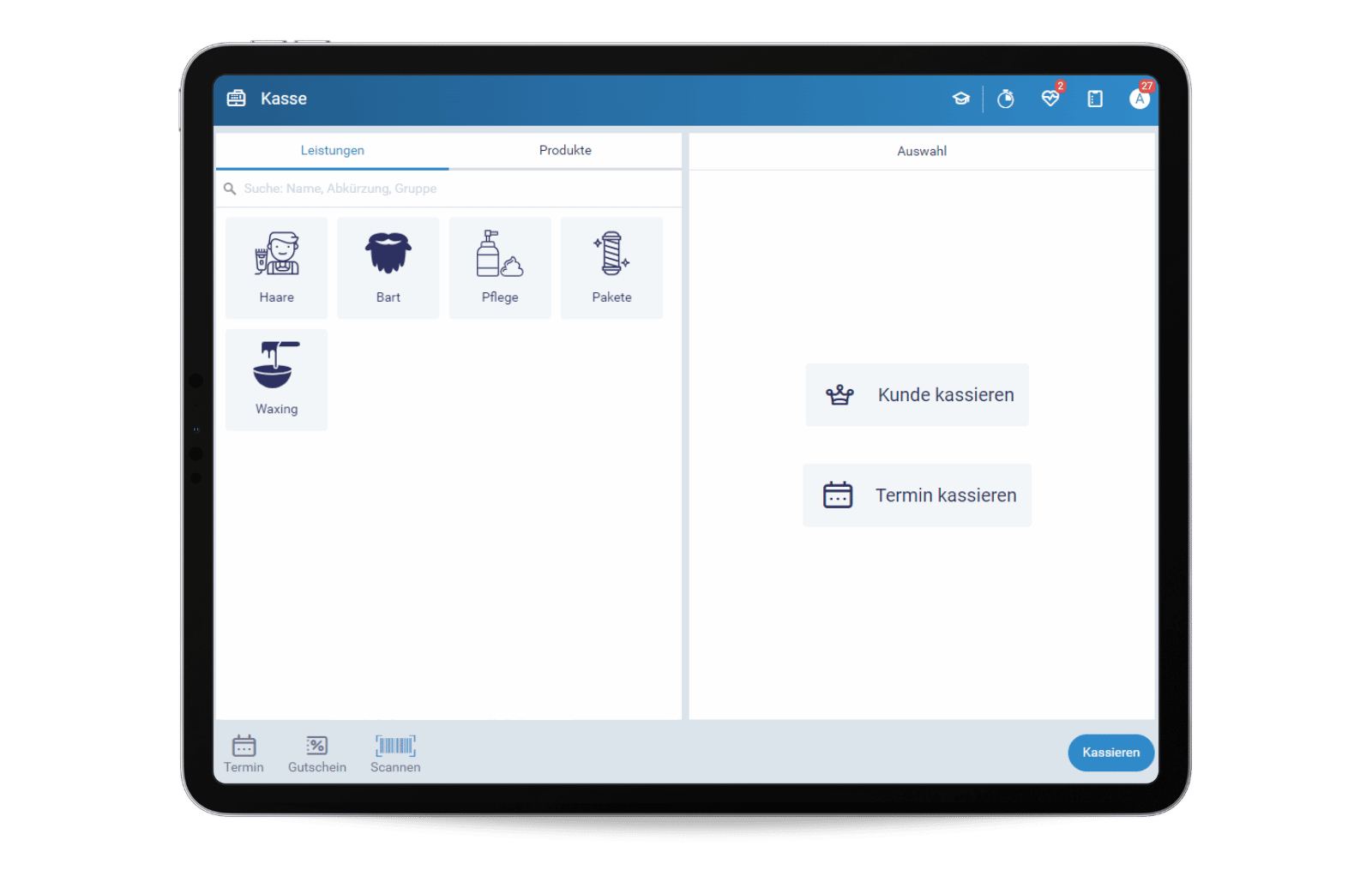 The advantages for Barber:
Optional accessories such as receipt printers, cash drawers and scanners are available for purchase, which can be integrated directly into the system. Our support is there for you, without any extra costs.
Appointment book – completely stress-free for Barber
For Barber, keeping a clean appointment book is the name of the game. With the vast numbers of often short appointments, the turnaround rate is much higher compared to ordinary barbers. Then, if you can't rely on the appointment booking, you face a big problem.
A digital appointment book is the solution to keeping track of what's happening in the barbershop. The choice of clocking helps to arrange the appointment intervals in such a way that barbers with shorter appointments can also take full advantage of the utilization potential. You have the choice between 5, 10 or 15 min intervals. Appointments are created with just a few clicks – no need to worry about typing – and can be assigned directly to a Clients. Don't worry, with the appointment book, unlike in writing, you don't have to decipher your colleague's handwriting.
In addition, you can track all the treatments of the gentlemen in the customer history. Serial appointments can also be easily copied, making appointment entry even faster.
The POS System for your barbershop
The cash register also has some features to offer. Appointments can be cashed out quickly and easily. It is also possible to sell products. Turnovers can be assigned to any number of barbers. Those who like it even faster can get a tablet as a second device. You can access studiolution from several devices at the same time. This means that appointments can even be collected at the same time and Clients no longer have to wait long.
The system can also be used to issue receipts. The receipt obligation can be fulfilled either by printing a receipt or sending an e-receipt.
The system also offers you the following useful functions in the cash register:
Marketing made easy for barbers
Gives your clientele the feeling that you are there for them even outside the salon. This is easily done with the marketing features that the system offers. Your gentlemen will love this new communication via SMS or email.
Uses the automatic SMS that are sent all by themselves by a certain trigger. Which SMS trigger you activate is up to you. You can choose between a text message when you make an appointment, an appointment reminder 24 hours before, a birthday text message or a thank you text message after the appointment. You can determine the text of the SMS yourself! Practical placeholders for the name or the date of the appointment help to address the Clients even more personally. Appointment reminders 24 hours in advance can be a great help to reduce missed appointments by up to 100%.
Those who are even more keen on straightforward marketing can use email or SMS campaigns. For this purpose, Clients can be filtered very specifically, e.g. according to the amount of sales or a number of days since the last visit. Just write a text and press submit. This also works in the evening with the after-work beer in hand.
No hassle with accounting
Bookkeeping becomes a minor matter. Cash book, journal and all bookings are recorded in the background parallel to all cash transactions. That means you don't have to keep it next to the system. All cash transactions are recorded in the history, which means that printing is no longer necessary.
If you diligently count your money every day and perform the cash closing, you will send the monthly report to your tax advisor at the end of the month already pre-accounted. This can be done from the system via e-mail and even in DATEV standard format. The tax consultant can then import the report into DATEV. You can also send the cash book, voucher report or if you keep inventory, the product inventory report if you wish. Completely uncomplicated, right?
By the way, would you like to know if your tax accountant costs are in the reasonable range? Then take a look at the tax accountant cost calculator.